Summer 2018 Youth Soccer Camp @ Pier 5 Soccer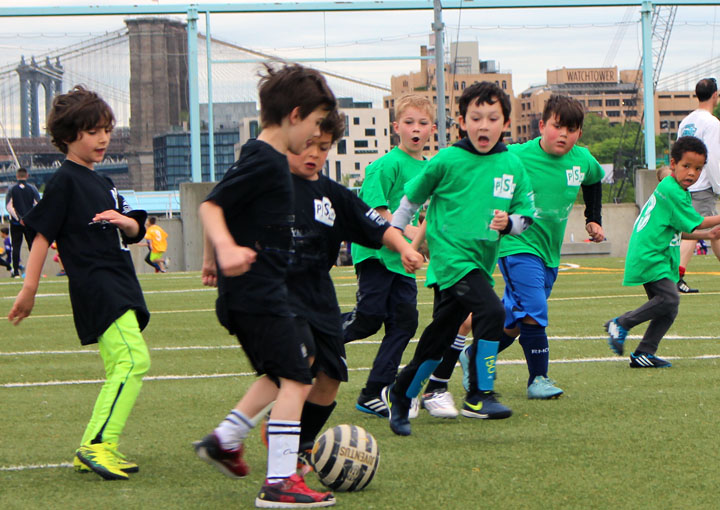 If your child or children participated in the Pier 5 Soccer program this Spring-or even if they did not---we hope everyone enjoyed the program. Many parents have been asking us if we will be doing anything over the summer, before the Conservancy program starts up again in the Fall.

The answer is yes, we will.
The program will take place on Field 1 on Pier 5, Brooklyn Bridge Park
Metro Soccer NY will be running an 8 week Soccer Program on Saturdays on Pier 5 starting June 2nd, ending July 21st. The format will be similar to the spring program in that we will divide the children (boys and girls) up by age group and play for 80 minute blocks from Noon until 4pm, with a mix of training drills and games. In this camp we will concentrate more on individual skills and technique correction, providing a framework for improvement. All coaching will be undertaken by Metro Soccer coaches [ no parent coaches required! ]
This is not a Conservancy program, although many of our coaches will be returning to work with your children in the summer.
if your children didn't participate in the Pier 5 program, no worries, they can participate with us now!
1st & 2nd grades: Noon - 1:20pm
3rd & 4th grades: 1:20pm - 2:40pm
5th & 6th Grades: 2:40pm - 4:00pm
$150 per child
Email us at info@metrosoccerny.com if you have any questions.
Thanks and regards,
Ian & Keith
Metro Soccer NY
---
Camper Fees

Regular

150.0

Camper Fees

Regular

150.0

Camper Fees

Regular

150.0