Pier 40 Summer 2022 Soccer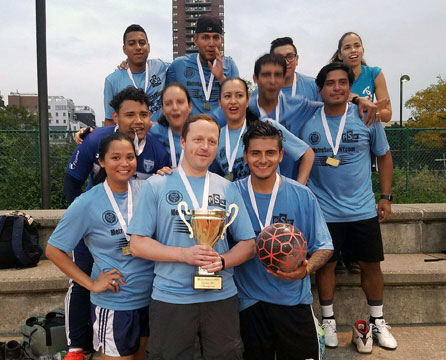 Welcome to Summer Soccer at Pier 40!
The Pier 40 Spring leagues will have the following divisions
Mondays Men 7v7, 7pm to midnight $1725 per team

Mondays Coed 7v7, 7pm to midnight, $1725 per team

Wednesdays Men 7v7, 8:30-11:30pm, $25 per team
Free agents $170. You can also register as a "small group" if you don't have enough for a full team but want to be placed together
Price includes t-shirts, equipment, all officials, trophies & medals.
All divisions are ten weeks long and begin in early June. We will confirm exact start dates shortly.
Note: We will rotate start times for teams throughout the season. Do not forfeit your late games otherwise you risk ejection from the league.
Use the form below to filter by sport, season, day(s) and/or location; or scroll to view all programs.
---
Team Fees

Regular

$1725.00 per team

Payment Plans Available

Team Fees

Regular

$1725.00 per team

Payment Plans Available

Free Agent Fees

Regular

$170.00

Team Fees

Regular

$1725.00 per team

Payment Plans Available

Free Agent Fees

Regular

$170.00